Yeeeeaaah, 'Office Space' Reunion Is Grrreeeaat At SXSW
"Office Space" is that rare film that grew from a less-than-stellar opening to become one of the most loved (and rented) films in history. It has gained fans around the world, its popularity spreading via word-of-mouth, since the unfortunate "Big Bird" poster advertising the film was considered a major faux pas at the time. (It depicted the character Milton with yellow post-it notes all over his body.)
On the occasion of "Office Space's" twentieth anniversary and also in conjunction with inducting Director Mike Judge ("Beavis & Butthead" creator) into the Texas Hall of Film Fame, the main cast assembled in Austin, Texas, at the Paramount Theater on Wednesday, March 6th, to screen the film to a devoted audience and reminisce about the film's history.
RON LIVINGSTON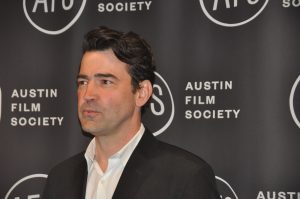 Although the press was told not to ask questions, I couldn't help but tell star Ron Livingston that my sister taught in Marion, Iowa, his home town, at Lin-Mar High School. He was very gracious and immediately introduced me to his father, pictured with him below.
Livingston also had a number of appearances on episodes of "Sex and the City" and now appears as the pivotal character in the television drama "One Million Little Things." My last time seeing him "live" was stumping for John Kerry in Cedar Rapids, Iowa in 2004.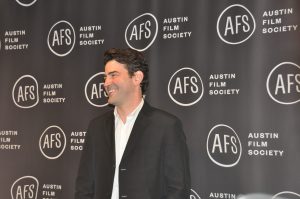 One of the humorous stories involving Livingston's involvement in "Office Space" was the phone call he got on the Friday before they were to start filming. The studio asked him if he could fast until Tuesday, when he would report to the set. As he said, "I think I jumped rope all day on Saturday and then quit."
Producers wanted "name" stars like Matt Damon or Ben Affleck for "Office Space" but Judge did not agree. Since Ben Affleck demanded $5 million in salary and the entire budget was only $2 million, Judge got his way and knew, instantly, from his audition, that Livingston was perfect for the lead role of Peter.
GARY COLE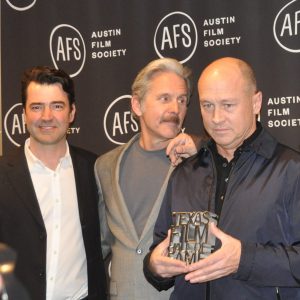 Gary Cole's Bill Lumbergh is a boss in "Office Space" whose constant request for TPS Reports and his smarmy mannerisms have been immortalized, Much of Lumbergh's casual insouciance was Cole's improvising.
Cole has a new series, "Fam," as the lead, Freddy, and has had multiple appearances in "Veep" and "The Good Wife." I met him first in Chicago at an Opening Night of the Chicago Film Festival, playingthe second lead in "The Last Rites of Joe May,"  with the late Dennis Farina in the lead role of a convict released from prison and trying to re-adjust to society's changes. Farina was rather dismissive of all print and digital press people and streaked past us, headed for the TV cameras, but Gary Cole was very kind and gentlemanly and chatted with all of us. He seemed to enjoy chatting with Ron Livingston this night.
DAVID HERMAN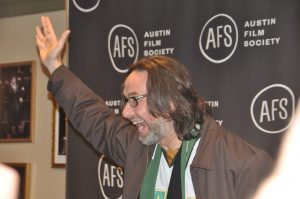 David Herman played the unfortunately named Michael Bolton. Years later, the real Michael Bolton commented on the film in a bemused fashion, and, as one of the cast members explained his choice for the same-named singer in the film, it was felt that, at the time Michael Bolton was "taking himself very seriously." He has lightened up in subsequent years. [Bolton has actually commented on the film in a positive way in interviews.]
David Herman was someone that Director/Writer Mike Judge wanted for his role from the beginning.  Herman was one of the 8 original cast members of Fox's late night MadTV. He still does voice-over work for "King of the Hill" and other films and has worked with Judge since 1999.  He was the loosest of the bunch and, also, the most changed in appearance.
MIA
Missing this night were Jennifer Aniston (Joanna) and Stephen Root (Milton), the stapler guy.
Although Judge was very specific that he wanted a red stapler for Milton's scenes, at the time Swingline did not make a red stapler, so several staplers were painted red for the scenes. Now, if you begin a career with the stapler company, a new employee is given a red stapler—  a result of the popularity of "Office Space."
AJAY NAIDU
Ajay Naidu of "Office Space." 
Ajay Naidu's impromptu break-dance move when the trio is trashing the hated copy machine in a field is now the stuff of legend. If you watch closely, you will see that Ajay almost got hurt in the "Office Space" scene, when he broke free and tried to run back to stomp on the copy machine some more. (Livingston and Herman, fortunately, had Ajay's arms and pulled him from the wreckage). Thirteen copy machines were taken apart and loosely glued back together, so that the trashing scene in "Office Space" would go smoothly.
Filmed in Austin, one critical event that took place during filming was the (temporary) loss of Jennifer Anniston's dog. She was, at the time, dating Brad Pitt, and he flew in to visit her about the time the dog went slipped away and went missing. Radio stations all over town were asking people to try to find the dog and the dog was, indeed, found, by a hotel concierge, who, many years later, introduced himself to Mike Judge saying, "You won't remember me, but I'm the guy who found Jennifer Anniston's dog."
STEPHEN ROOT
Stephen Root.
Stephen Root's myopically thick glasses did not fail to make an impression on anyone who saw the film. Actually, his eyes were not bad and the glasses were so thick that he could barely see. He had to wear contact lenses to correct the distortion of the coke bottle thick lenses. Root has gone on to become "the man in the High Castle" in Amazon's series as well as many other character actor parts, including one in Jordan Peele's "Get Out."
He will always be Milton, the stapler guy from "Office Space", to most of us.