Experience A Handcrafted Christmas This Saturday!
The most highly anticipated craft and vendor markets of the year is almost here!
The Muscatine Area Farmers Market presents A Handcrafted Christmas, this Saturday Dec 8 from 10 a.m. – 2 p.m. at the Muscatine Mall (1903 Park Ave. Muscatine).
A Handcrafted Christmas is the largest Muscatine Area Farmers Market's event of the year! With 100 participating vendors, you'll find something for everyone on your shopping list! Peruse the many booths and tables while enjoying live holiday music. You will even get a chance to visit with Santa himself from 1 – 3 p.m.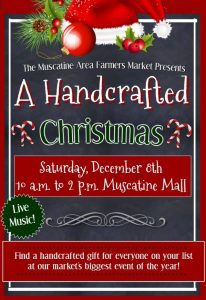 Check out this impressive list of participating vendors at this year's event:
Monica Duffe- Baked goods
Ol' Man & a Saw- Puzzles, plaques, pens and more
Jennifer DeFosse- Homemade bread & apple butter
Bonnie Buelt- Crochet scarves, hats and mittens
Barb & Betty Thompson- Sewn goods, towels & more
Grey Barn Farms LLC- Alpaca products, yarn, sugared pecans
GunsNCoffee- Hot & cold coffee, vintage coffee cups, gift baskets
Grandma Letty's Pastries- Mexican wedding cookies, pies, buñuelos
Sharon Hamilton- Hand-painted holiday decor
Ellen Dice- Herbs, teas, salves, aprons and jewelry
Randy Hahn- Painted decor, wooden toys
Pauline Swanson- Kitchen towels, scrubbers, pot holders
Al's Handcrafted Soaps- Soaps, shaving balms, dog shampoo
Jeanne Bishop- Painting on canvas & feather art
Jody Ford- Crochet accessories & fluid art
Samantha Kennedy- Wooden jewelry boxes
MA's Handmade Vanilla & more- Vanilla, jewelry, jellies
Toni Fowler- Seasonal wreaths
Broken Shovel Farms- Breads, dog treats, baked goods
Grandma Tea Party's Closet- Doll and pet clothing
Cindy Sorenson- Framed dioramas
Betty Collins- Greeting cards, nature art
Mike Schmidt- Vintage-inspired wood crafts
Madsen Goat Milk Soap & Crafts- Soaps, jewelry & more
Release the Krakken Bath & Body- Bath bombs and soaps
Sweet Josie Girl- Vintage signs, jewelry, Christmas Ornaments
Cindy's Crochet Goods- Crochet hats, scarves and accessories
K&M Crafts- Signs and home decor
Angie Miller- Sweater mittens
Lottie Morrison- Beef sticks & jerky
Wild Angel Expressions- Cards, decor & paper crafts
Jessica Blanchard- Wreaths & home decor
JmagaClothing- Pet and doll clothes, hair bows
Drea's Vinyl Creations- Custom tumblers, glasses, mugs & more
Amanda Bollinger- Mixed-media artwork
A Little This & That- Handcrafted wooden decor
Gau Designs- Purses, bags and accessories
KnitWitNerd- Knit hats, baby cocoons & beadwork
Expressive Inspirations – Shirts, crafts & crochet items
Melons and Mingos- Custom glassware, baby bibs & bows
Serena Bollinger- Watercolor paintings and collages
Say it Simply Creations- Home decor & clothing
Hearts & Holly- Wreaths, Christmas decorations
Stone Creek Ironworks- Iron art, stocking hangers & more
A Cobert Creation- Soaps and lip balms
Crochet Mama- Crochet toys, stuffed animals & hats
b.jules designs- Necklaces, rings, bracelets
John Marr- Wooden birdhouses
Karen's Krochet Korner- Crochet baby clothing, blankets & booties
Elephants & Flowers- Dreamcatchers, macrame & jewelry
Pam Speer- Themed solar lights
Lula Stiger- Kitchen towels, oven mitts, scrubbers
D and Zee's Fleas- Holiday signs & decor
Bonnie & Christine- Tie blankets, wreaths, knit cloths & hats
Crafts Unique & Creative Design- Dolls, jewelry, accessories & more
Marilyn's Crafts- Blankets, table runners, quilts
Gilbert's Grapes Handmades- Hats, scarves, cowls, coffee cozies
Brenda Close- Massages
Arnie's Corner BBQ- Brisket, burnt ends, funnel cakes
Loving Paws Bakery- Dog treats & biscuits
Cathy Fehring- Leather goods
Zanetta Hill- Jewelry & magnets
Pat Garmin- Folk art pillows and decor
Meagan Koehler- Holiday wreaths
Products of the Flock- Knit/crochet hats and plushes
Lindsey Bohl- Bath bombs, sugar scrubs, soap & candles
Graceful Designs- Pet beds, table runners, jewelry
Wild and Free Custom Creations- Custom clothing, decor & more
Simple Liberty- Soaps, lip balm, jewelry
Missy Plowman- Dream catchers, woodwork
Family Traditions- Potholders, stonework
Under the Rainbow- Crochet goods, jewelry
Graphics by Hartley- Personalized signs and gifts
Jan's Sewing & Crochet- Needlework & sewing crafts
Courtney Litwiler- Origami art & crayons
Nancy McMahon- Upcycled art
Andrea Newsome- Holiday signs
Sunshine Fibers- Knit/crocheted wool fiber products
2nd Chance Designs- Upcycled signs & decor
Warwood Customs- Wooden cutting/cheese boards, toys & more
Sew Crazy- Car seat ponchos, feedsack pillows
Lauren Petty- Yarn tapestry, wood sign, pallet wood art, fluid art
Kris Norris- Quilts & jewelry
Rick's Signs- Metal art work
Art Grows Wild- Felted wool fiber art
Karen Nelson- Table runners, placemats, wine carriers
Pam Jacobs- Lighted vases, upcycled crafts
Scott Phelps- Wooden rubber band machine guns
Emily's Imagination- Cutting boards, serving trays, woodworking
Dragon's Keep- Chainmaille, jewelry & accessories
Kristina TeBockhorst – leather jewelry, knitted items, concrete planters
For more information on this year's A Handcrafted Christmas, please visit https://www.facebook.com/events/697737243919207/.
Don't miss the largest Christmas market Muscatine has ever seen!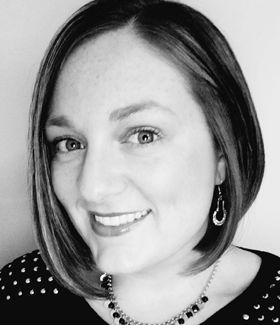 Tess Abney is a freelance writer who was born and raised in the Quad Cities. She spends most of her time attempting to successfully raise three boys. In her free time, writing is her passion. Whether it is sharing local events and businesses with readers or sharing her thoughts on life, she finds comfort in the way words can bring people together.