Show Your Support for National Bullying Prevention Month

Bullying is serious business. But thanks to QC United and Pete the Purple Bull, bullying prevention in schools and communities can be both effective and enjoyable!
Join QC United and Pete the Purple Bull in their Kindness Rocks Campaign! Show support and feel the power of kindness through the numerous events planned and sponsorships available throughout the coming months.
While October is National Bullying Prevention Month, QC United is dedicated to assisting local youth fully access educational opportunities all year long. QC United operates several unique and exciting programs endorsed by multiple Quad Cities school districts, law enforcement organizations, businesses and city leaders.
Kindness Rocks is QC United's newest campaign for National Bullying Prevention Month in October. Whether you share your story, participate in the Run with the Bull 5K, attend the CommUNITY Party, purchase a garden flag, offer sponsorship or spread the word you can help better the lives of the future leaders in our community.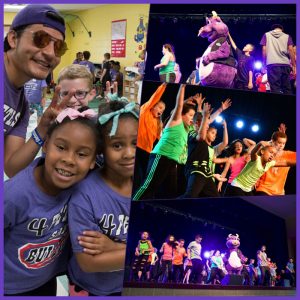 Here are some of the amazing events planned for the month of October:
Kindness Rocks Garden Flags
Show your support for a kind and safe Quad Cities community by purchasing a $20 Kindness Rocks garden flag. All proceeds go to support local anti-bullying school and community programs. Show your neighbors and friends that they live in a welcoming and caring community. To order your flag today, go to http://www.qcunited.org.
Run with the Bull 5K/Walk & Youth Relays
Get on the MOOVE at the Run with the Bull 5K/Walk & Youth Relays on Saturday Oct 13 at Modern Woodmen Park (209 S Gaines St. Davenport). The 5K Fun Run (and walk) will begin at 9 a.m. and the Youth & Family Relays will begin at 10 a.m. For more information and to register, visit http://www.qcunited.org/run_with_bull_5K.php.
Margarita Mix-Up Fundraiser
This fun and tasty fundraiser will take place on Thursday Oct 18 at the RiverCenter (136 E 3rd St. Davenport), beginning at 6 p.m. Tickets are $40 in advance and $50 at the door. Enjoy live music from Crooked Cactus, the best Mexican food in the Quad Cities, six varieties of margaritas, a nacho bar and so much more! Guests will vote for their favorite traditional and street taco. To purchase tickets today, visit http://www.qcunited.org/margarita.php.
Pete the Purple Bull's Awesome Party
This FREE family festival celebrates Bully Prevention Month. On Sunday Oct 21 from 1-4 p.m. learn strategies to keep our commUNITY safe and welcoming for all at the Quad Cities Waterfront Convention Center (2021 State St. Bettendorf). High-energy entertainment will be provided by RE-FL3X and Remix, along with many other amazing performers. There will be crafts, games, inflatables, cookie decorating and even pictures with Pete! You can bring 3 canned goods to enter a drawing for one of 10 new bikes! For more information, visit http://www.qcunited.org/commUNITY.php.
Kindness Rocks Concert
Party like it's 1999 at the Kindness Rocks Concert, on Sunday Oct 21 from 6:30 p.m. – 10 p.m. This feel-good evening with a Prince vibe will take place at the Waterfront Convention Center (2021 State St. Bettendorf). Enjoy live music from Funktastic 5 and dance performances by ReFL3X, while raising awareness and funds for Anti-Bullying School Programs. A cash bar will be available, and you will have the opportunity to make your own t-shirt! Tickets are just $12 (12 and under are free) and can be purchased today at https://secure.blueoctane.net/forms/ZH1L3IQILB28.
Pete the Purple Bull Musical
Pete's Grand Plan, the very first Pete the Bull Musical, will debut on Saturday Nov 3 and Sunday Nov 4 at North High School Auditorium (626 W 53rd Street Davenport). This family show takes place in Pete's home setting, Harmony Farms (a cartoon-like place). Audiences will get to see first-hand how Pete was brought into the real world. Enjoy an amazing cast of singers, dancers, actors and drummers in this uplifting and fast-paced production!
QC United offers many sponsorship opportunities, as well. If your school or business would like to take part in the amazing mission QC United upholds on a daily basis, contact Kim Riley-Quinn at (855) 485-4445 or kim.riley@qcunited.org.
To keep up with the exciting and eventful activities the Kindness Rocks Campaign plans to offer, visit them on Facebook at https://www.facebook.com/petethepurplebull/ or check out the Pete the Purple Bull's website at http://www.petethepurplebull.org/.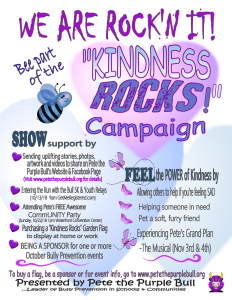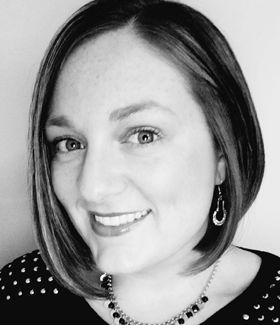 Tess Abney is a freelance writer who was born and raised in the Quad Cities. She spends most of her time attempting to successfully raise three boys. In her free time, writing is her passion. Whether it is sharing local events and businesses with readers or sharing her thoughts on life, she finds comfort in the way words can bring people together.