Lucille Furs Coming To Daytrotter
Chicago's Lucille Furs will be opening for Diane Coffee at Daytrotter, 324 Brady St in Davenport, on Sat, June 2 at 8PM as noted at http://www.daytrotter.com/live-shows/133.html
After a successful run of showcases at SXSW and a show at Elsewhere in Brooklyn recently, Lucille Furs are looking forward to several shows/festival performances this summer, including a set at Daytrotter on Saturday, June 2! The band's most recent single is entitled "Another Land" and is out now via Chicago's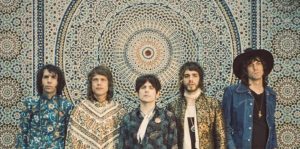 Treehouse Records.
"Another Land" is streaming at https://soundcloud.com/ treehouse-records-chicago/ lucille-furs-another-land and   https://open.spotify.com/ track/0lOcO7Xrmq6RcIHpetuDt4
There is also a video for "Another Land" at https://vimeo.com/262890201
The clip was directed by Celia Marie Peterson and shot on location in Paris, France.
For more info, see http://www.lucillefurs.com/
Sean Leary is an author, director, artist, musician, producer and entrepreneur who has been writing professionally since debuting at age 11 in the pages of the Comics Buyers Guide. An honors graduate of the University of Southern California masters program, he has written over 50 books including the best-sellers The Arimathean, Every Number is Lucky to Someone and We Are All Characters.