Junior Theater Ends 66th Season With 'Emperor's New Clothes'
Since 1951, Davenport Junior Theatre (DJT) has been making theatre "For Kids, By Kids."  The upcoming production of The Emperor's New Clothes is a new play inspired from the original story by Hans Christian Andersen.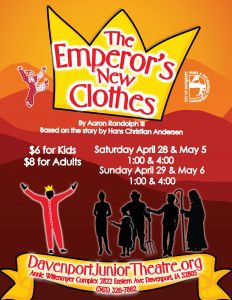 "It's a story that has stood the test of time," said playwright Aaron Randolph III.  "Classic stories are classic for a reason.  Exploring stories and retelling them for each new generation helps us understand ourselves.  When we do it at Junior Theatre, it is always a lot of fun."
"We don't hold back when working with the kids," said DJT's Artistic Director Daniel Sheridan.  "Working together on creating a brand new adaptation is always a challenge, but the kids learn a lot through the process."
The Emperor's New Clothes involves over 30 students from 8 different area cities and towns. The kids range in age from 9 – 18 and are actors, crew members, tech board operators, front-of-house team members and more.  Local professional theatre artists work alongside the kids to create a dynamic theatre experience while training kids in theatrical production.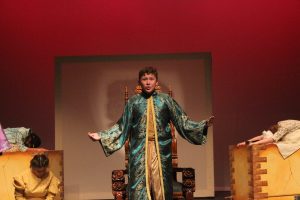 "I always want my team to have fun when we work on a show," said director Kailey Ackermann. "This show is definitely that.  The play is witty, current and full of comedy.  Yet it also poses many technical challenges as well; from mobile sets to shadow puppetry to a finale song."
In the story of The Emperor's New Clothes, the unlikely characters of Tablecloth and Low Fat Greek Yogurt must find a way to care for their aging mother.  They go on an adventure throughout the kingdom, convincing people to buy clothes that are not really there.  When news reaches the emperor of the con job they have performed, the situation grows even more outrageous.
"The show is all about our perception of what is real and what we choose to believe," said Sheridan.  "This show leads to many hilarious interactions and, best of all, a lot of full long john underwear outfits for the kids."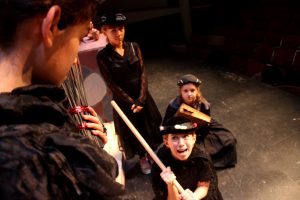 Founded in 1951, Davenport Junior Theatre is the nation's second-oldest children's theatre.  Classes and camps are offered year-round in theatre and dance for students ages three to eighteen. Classes are as varied as acting, improvisation, broadway, puppetry and theatrical design. In the quickly-growing dance division – which is now six years old – young dancers learn poise and confidence while having fun and making friends in a non-competitive dance environment.  Summers see a myriad of camps and other activities for kids of all ages.  Through all these opportunities, DJT prepares kids for a lifetime of success, no matter what path their lives may take.
Performances:                                                                                         Tickets:
Saturday, April 28 at 1:00pm & 4:00pm                                             Ages 3-17: $6.00
Sunday, April 29 at 1:00pm & 4:00pm                                                Adults: $8.00
Saturday, May 5 at 1:00pm & 4:00pm                                                Under 2: Free
Sunday, May 6 at 1:00pm & 4:00pm                                                   Tickets sold at the door, no reservations
Sean Leary is an author, director, artist, musician, producer and entrepreneur who has been writing professionally since debuting at age 11 in the pages of the Comics Buyers Guide. An honors graduate of the University of Southern California masters program, he has written over 50 books including the best-sellers The Arimathean, Every Number is Lucky to Someone and We Are All Characters.