Have A Dickens Of A Good Time At Curiosity Shop
Looking for different dragons to slay than just the ones offering bad pickup lines?
A local science-fiction and curio shop is looking to offer "more than just bars and church events" in the area on weekend nights, boasting a slate to ultimately include gaming, trivia nights, dungeons and dragons, Magic and more.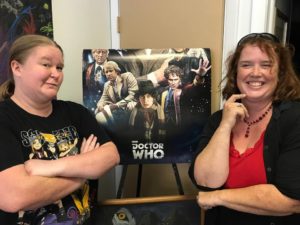 Dickens' Curiosity Shop, 207 W. 2nd St., opened in 2017, and since then has been expanding its universe of collectibles, books and art items for sale on its shelves. Along with that growth has come an expansion of the store's place in the local entertainment galaxy.
"We're just trying to do something different that nobody else is doing," said Kim Dickens, the owner of the spot. "We're a bookstore with a science-fiction and fantasy emphasis, but we also include comics and collectibles and other things that are of interest to our kinds of fans. So that means lots of Dr. Who, Harry Potter, Star Wars, Game of Thrones, Dungeons and Dragons, Munchkin, Magic the card game and other stuff like that."
Dickens was inspired by her own interests and loves growing up, as well as what she saw as a void in the local entertainment market.
"Nobody is doing anything like this," she said. "This is what I always liked doing growing up, my family would play games, like card games or role playing games. I remember playing Magic the Gathering and having big game nights and it being so much fun. I like being a social person and meeting up with friends and everything, but I'm not big on going to the bars, and otherwise it just seems like the other thing people do is church activities, but that's not for me either. I wanted something for people who are like me, science-fiction and gaming and fantasy fans, someplace where we could hang out and drink coffee or whatever and talk about Dr. Who or Game of Thrones or whatever."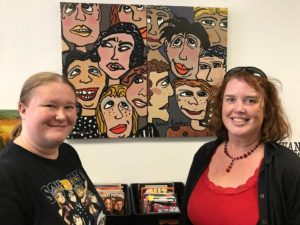 "I think there are a lot of people out there like us," said Holly Hunter, events manager for the store. "But they just haven't had anyplace else to go to do this, just like us. Hopefully this will become that place for them."
In October, Dickens will be offering Halloween-themed events, and the shop is also offering a Monday Writers Workshop for aspiring scribes from 6:30 to 7:30 and hopes to have guest authors speaking and doing readings from their works.
"We're going to have workshops on writing horror and science-fiction and fantasy, the genres that we primarily carry in the store," Dickens said. "I know a lot of people who write in the same genre they read and I think it's going to be really popular.
"We're trying to create our own literary community here," she added. "I think there are a lot of creative people here but they just haven't had places to meet up and hang out. We're hoping to provide that. I love that idea, the idea of mixing all of those things together and having this gathering of like-minded people. I'm looking forward to it happening!"
Dickens is open Monday-Thursday, noon to 6 p.m.; Friday and Saturday noon-8 p.m.
For more information on the shop, see the store's Facebook page at https://www.facebook.com/lilDickens/.
Sean Leary is an author, director, artist, musician, producer and entrepreneur who has been writing professionally since debuting at age 11 in the pages of the Comics Buyers Guide. An honors graduate of the University of Southern California masters program, he has written over 50 books including the best-sellers The Arimathean, Every Number is Lucky to Someone and We Are All Characters.