Get Your Punch On At Muscatine Boxing Club
People of all ages can get a punch out of Muscatine Boxing Club, and residents can take a swing at finding out about it at its 1808 Dewey Ave., Building A, location.
While some may be interested in the more pugilistic aspects of the sport, including self-defense training, there are a number of reasons boxing is an excellent addition to your life, said Laura Liegois, communications director for the club.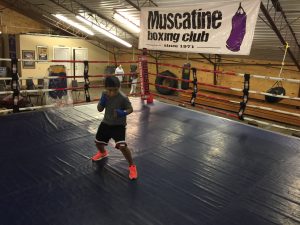 "It's a lot more than just fighting, we have people who come in here who have never stepped in the ring and some never will," Liegois said. "Boxing is a great sport for all ages in that it's a good workout, it's terrific cardio, and can help get you in better shape and better health."
There's also a mental aspect to it that is beneficial, she added.
"It helps people to be mentally sharp, not just by getting physically fit, but it teaches discipline, self-reliance and self-confidence," Liegois said. "A lot of kids join up and we see kids doing better in school and in their home lives from the lessons that they learn here at the boxing club. Boxing is more than just punching, there's a lot that goes into it mentally in the training. It's a lot like chess, in that you have to be able to think about what's coming next and strategize, and that takes a lot of mental toughness and focus."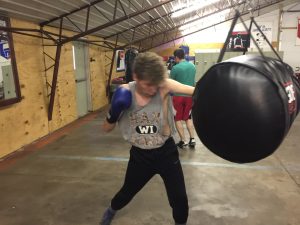 Checking out the venue is a great way to be introduced to the club, as various trainers will be on hand to explain it and people can have a turn on the equipment to get a feel for the sport.
"It's a really good group of people and a great way for people to find out about the club and see if they're interested in boxing," Liegois said. "You can see what goes on there and get a good feel for it."
As always, trainers will be on hand and appropriate safety procedures are taken in regard to any sport, particularly a martial art.
"Everyone in the club is required to go through physicals and a long training process before they ever get into the ring," Liegois said. "Young ones wear headgear, we do everything by the book, it's a very controlled environment."
However, most people of any age won't end up getting into the ring, she said. Many of the people coming out use it as a rigorous gym exercise as well as a way to build up strength and learn some self-defense.
"People come in because it's a great workout, it's a great physical activity, it gets you fit and it's fun," Liegois said. "People come here and do amazing things and really can improve their lives, that's why we're excited about it and we hope people will join us and learn more and be excited about it too."
For more information about the club, see www.muscatineboxing.com.
Sean Leary is an author, director, artist, musician, producer and entrepreneur who has been writing professionally since debuting at age 11 in the pages of the Comics Buyers Guide. An honors graduate of the University of Southern California masters program, he has written over 50 books including the best-sellers The Arimathean, Every Number is Lucky to Someone and We Are All Characters.