Get Your Kickins At Rustic Pickins!
You'll find quaint, cute, fun and funky products more folksy than a dropped "g" at Rustic Pickin's, a new store that just moved from its old Park Avenue locale to new digs at 225 E. 2nd St., in Muscatine.
The location specializes in the suddenly hot market for repurposed items, furniture, housewares and the like. As owners Jackie Petty and Melissa Lowrey put it on their Facebook page, "We use old, forgotten 'junk' in unexpected ways. Come to our next show to see what we're all about."
So, what are they all about?
"We're all about repurposing different materials into new and one-of-a kind items," Petty said. "Not everybody is into the same things. People like things that are different and unique, things that are out-of-the-ordinary, that isn't just like everything else that you can pick up at Target or Walmart. So people like getting things from us because they get one-of-a-kind pieces and one-of-a-kind deals."
And a one-of-a-kind origin story.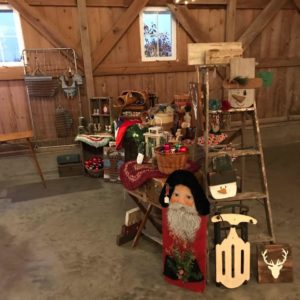 Rustic Pickin's opened its doors in Oct. 2016 and is perhaps the only store in Muscatine that can attribute its genesis to the acquisition of a plasma cutter.
"A friend of mine bought a plasma cutter and I started playing with it and was cutting all of this stuff, it was really fun, and I started making all of these things," Petty said. "I started putting together all these different items and repurposing things into stuff that was new and cool, just trying to keep these things out of the landfill. And it just took off from there. People really started to like them, and we started to take them to flea markets and other places and started selling a lot of them. We were doing so well and everybody kept asking us when we were going to have a shop, so we thought, well, why not?"
Why not indeed?
And that adventuresome attitude continues to shadow Petty and Lowrey in their ethos of creation.
"Our shop is different all the time," Petty said. "We build things out of so many different objects, things people would just throw in the trash, we see the beauty in and we repurpose. We have a variety of things that other venders don't. We've got a lot of the traditional farmhouse type of things and that style, but we also have a lot of industrial style stuff too."
For Petty the creation of the new and vibrant has been a family affair since she was a kid.
"My Mom and Dad are very crafty and they had a story in Wilton and I used to help them all the time in the shop," she said. "I got out of it when I got older, but I always kind of had it in me."
All she needed was the inspiration. And the plasma cutter.
Rustic Pickin's is also looking to offer something else different to its shelves – items more aimed towards a male audience.
"In shops like this you see so many things that seem to be geared more towards women," Petty said. "One thing we're offering that's different is that we've got three different vendors that are offering things that are more geared towards guys. So, yeah, it's not just things that are geared towards women, we have guys things too."
Although even with that more male-centric approach, she's still not changing one discriminatory practice in her household.
"My husband still isn't allowed to use my plasma cutter," she says, with a laugh.
Want to stop by and pick up some things at the place with the dropped g? You can hit them up from 11 a.m. to 6 p.m. Wednesday through Friday and 11 a.m. to 4 p.m. Saturdays. For more information on store, feel free to call them at (319) 621-2733 or stop by their facebook page.
"We always look forward to seeing new customers!" Petty said.
Sean Leary is an author, director, artist, musician, producer and entrepreneur who has been writing professionally since debuting at age 11 in the pages of the Comics Buyers Guide. An honors graduate of the University of Southern California masters program, he has written over 50 books including the best-sellers The Arimathean, Every Number is Lucky to Someone and We Are All Characters.