From France To Springer To Muscatine With Jodi Hansen
Jodi Hansen's path has wound from Muscatine to France to "The Jerry Springer Show" to MTV to PBS and back home again, and while every stop has been eventful and intriguing, one thing she's learned is that there's noplace quite like home.
Born and raised in the Pearl City, Hansen is currently the director of the Muscatine Convention and Visitors Bureau, and has been a part of the Greater Muscatine Chamber of Commerce team since she returned to her old stomping grounds in 2012.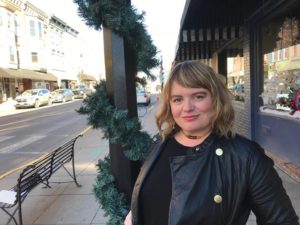 Her passion for Muscatine is obvious and palpable. She's worked to promote greater livability and accessibility for residents through the Blue Zones project, she's helped promote area businesses and she's quick to deflect attention from herself and to the various residents of this town looking to make it a better place.
"Muscatine is a terrific community, it's a great place to live and to raise a family and it's only growing and getting better," she said.
Hansen graduated from Muscatine High School and, not surprisingly, was active in a number of activities there, from soccer to speech and debate to cross country to student council. She went to University of Iowa, majoring in Communications, and while there studied abroad in Pau, France.
"It was amazing, here I was this girl from Iowa who had never been out of the country going there to experience all these different cultures, it changed me for life," she said. "It made me realize I could go anywhere and meet people and make friends even if there was a language barrier or we were from different cultures and different places."
That ability to navigate various social strata served her well in moving to Chicago after college.
"I moved there literally with a bag of cash that I had saved, I had no checking account, no job, nothing like that," she said. "I found an apartment and spent most of my days going around the city, checking things out, going to Cubs games and having fun. Then I realized that I was going to eventually run out of money and I was going to need to find work, so I went back to work as a waitress."
While waiting tables, she met someone who knew someone who worked for "The Jerry Springer Show." She applied, and before long she had moved up from intern to producer and was helping out on the infamous and hilarious reality TV groundbreaker.
"It was really interesting, it was a lot of long hours, but a lot of fun, it was a great experience for me," she said. "What I got out of it was that I had an ability to relate to anyone on some kind of level."
So, how was Jerry?
"I didn't know him very well, but my interactions with him were very nice, Steve was very nice," Hansen said. "He was actually a police officer in the neighborhood I was in."
He was also part of her cameo in People magazine.
"They were doing a story on Steve and they needed someone to pose as a guest, and so I'm dressed up as a guest for the picture," she said.
From there she worked for MTV in the operations department, then the famous advertising agency Leo Burnett, and then as a producer for the live music show Soundstage for PBS.
"They were all great experiences," Hansen said.
Wanting to move closer to home to be nearer to family led her back to Muscatine in 2012 as an event planner with the Chamber of Commerce, which led to the path she's currently on.
"When I reflect on my life, I'm fortunate enough I've had the chance to start different careers and build upon where I've been and have been able to come back home to where I was born and raised," Hansen said. "People have asked 'how could you leave the big city to come back here?' But I truly love this community and living here. This community is where I was raised and it's how I grew up and grew as a person, and I love it. I'm really proud I've never looked back and always looked forward, and that's what I'll continue doing in my own life and for Muscatine."
In her free moments, Hansen enjoys spending time outdoors with her husband, Steve, as well as cooking, hiking, watching films and looking for new places to discover right here in Muscatine. It's been a long, intriguing path, she says, but she's loved it.
"Sometimes when I think of all the things I've done in my career I'll ask, how does this all make sense?" she said. "But what I realize is that all the things I've done involve relationships with people and building and maintaining positive relationships, and that's what it's about."
Sean Leary is an author, director, artist, musician, producer and entrepreneur who has been writing professionally since debuting at age 11 in the pages of the Comics Buyers Guide. An honors graduate of the University of Southern California masters program, he has written over 50 books including the best-sellers The Arimathean, Every Number is Lucky to Someone and We Are All Characters.