Freethinkers Celebrate Ideas And Imagination In Muscatine
One of the most valuable treasures of humanity, free thought, is priceless. And that golden commodity of the intellect is what is most prized by a local group, the Muscatine Society of Freethinkers.
The loosely formed organization, begun by Travis Glynn two years ago, has offered a number of get-togethers, seminars, events and discussions since its inception.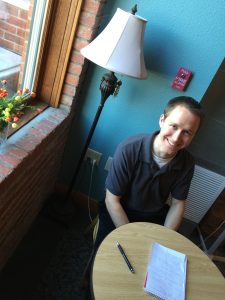 "We started a facebook group four years ago, then started having meetings after that and now we're up to about 55 people," Glynn said. "It started with an idea of mine about three years ago to get people together who were like minded and interested in talking about and learning about new things.
"The whole thing started when I listened to a podcast of people talking about and arguing about religion that I thought was interesting," he said. "Then I went to a humanism conference in Chicago and met some people I'd been following online, and that inspired me to do something like they were doing here.
"I really want to create a place where other people who have different worldviews can get together and maybe not feel so alone in their thinking," Glynn said. "Sometimes you look around and the mass media and general society can make it seem like everyone thinks the same way about things and has the same worldview and that's not the case."
Glynn's group is a diverse mix. While some have called it an atheists group, and it does boast a fair number of atheists and agnostics, there are also religiously inclined people who come to the activities, particularly those which discuss religions. The group has held a number of discussions on different religions, looking at their origins and belief systems, and discusses them from an intellectual perspective.
"We don't get caught up in dogma," Glynn said. "You don't have to be a non-believer to join. Just because we don't believe in the same things doesn't mean you're not welcome. You don't have to be an atheist to join the group, it's more about being against dogma and open-minded than anything.
"We don't focus on atheism," he added, "that's a part of it though, and I feel it's important that gets normalized. I think too often people think of atheists as these terrible people or as a small minority but in reality, that's not the case. We're just normal people who happen to hold a different belief, or, lack thereof, and there are actually more of us than people think."
According to various studies, anywhere from 15 to 20 percent of the U.S. population identifies as atheist or agnostic, and it's actually the fastest growing group of people among millennials, Glynn said.
"It's sad to me that there are people in our group that can't identify themselves as being a part of our group because they're afraid of a backlash from identifying publicly as atheist," Glynn said. "When I came out, so to speak, as an atheist, I didn't think it was that big a deal. But to some people it is.
"I would say what we believe, humanism, puts humanity at the top of what we care about," Glynn said. "It answers more of what we are than what we aren't."
What they are is civic minded. The group has organized a number of blood drives and food drives, and are always hoping to help people out.
"We hope everyone comes out to check it out and see what we're all about," Glynn said.
"We welcome everyone to come out, open their minds and share their thoughts. That's what the Society of Freethinkers is all about."
For more information, see www.facebook.com/muscatinesocietyoffreethinkers.
Sean Leary is an author, director, artist, musician, producer and entrepreneur who has been writing professionally since debuting at age 11 in the pages of the Comics Buyers Guide. An honors graduate of the University of Southern California masters program, he has written over 50 books including the best-sellers The Arimathean, Every Number is Lucky to Someone and We Are All Characters.