You'll Be Sweet On Bent River's Blueberry Sour
You like booze, you really like booze!
Due to popular demand, and a whole lot of people reading my last food/beverage review of the Minty Mango brew at Radicle Effect, we at QuadCities.com have decided to start up a new feature, Let's Have A Drink With Sean Leary, in which I'll be going around to different brew pubs in the area and trying out various beers, the more unusual the better, and reporting back to you with my opinions and pithy comments.
It's a tough job, folks, but someone's got to do it.
And by someone, I mean me.
But it's not all fun and games, folks. Sometimes I have to risk and traverse heavy childhood traumas to bring you this hard-hitting, incredible investigative journalism. Such as this week, when I went to Bent River, 512 24th Street, Rock Island, to "review" (read: drink and write about) their Blueberry Sour brew.
What childhood trauma? You mean, when the older kids in the neighborhood made me and some of the younger kids drink a six-pack of Schlitz? No, no, I'd hardly call that trauma. That was recreation. No, of course I'm talking about when I was a child and I watched the movie "Willy Wonka."
Now, if you'll remember the original "Willy Wonka," the title character was played by Gene Wilder as a smug, sardonic bastard who systematically basically murdered a bunch of kids as they traveled through a candy factory. It was the kind of good, clean, family fun that my generation grew up watching on TV so that so many of us and our parents could become hypocrites and rant about violence in entertainment nowadays.
Now, for those of you who remember it, in that original "Willy Wonka," there's a scene where a girl named Violet steals a piece of gum that Wonka has warned her against taking. A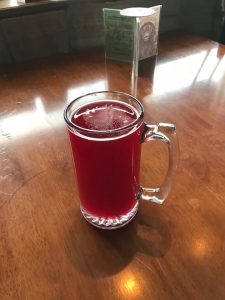 s punishment for this seemingly venial sin, Violet's body distends and bloats into a giant blueberry as her face and extremities and one would guess the rest of her skin, turns blue.
Seems like a reasonable punishment for stealing gum.
Anyway, the Oompa Loompas are called in to roll  Violet away to a "juicing center," which now, come to think of it, sounds kind of perverted and darkly erotic, but at the time sounded nefarious and dark, the stuff of nightmares. Hell, I had certainly shoplifted a good amount of candy at that time of my life, and the last thing I wanted to happen to me was to be turned into a massive blueberry and sent to a juicing center.
Anyway, thus began my childhood trepidation about blueberries and all things blueberry, which, come to think of it, didn't really continue on past me turning eight, but nevertheless has led to a lengthy but somewhat entertaining introduction to me talking about this Blueberry Sour beer.
Now, in last week's column, I named the Minty Mango of Radicle as the beer of the summer, although it should be called the beer of the late spring and maybe early summer because it's only there for a limited time. So during May and early June, if that's the King of Summer Beers, the Blueberry Sour at Bent River has to at least be called a Duke or an Archduke. Call it the Franz Ferdinand of summer beers if you'd like. Especially since you're going to want to take it out. (See what I did there. Yes. Yes. That's why they pay me the small bucks. Click to subscribe and go to my Patreon!)
Much like the Minty Mango, the Blueberry Sour has that same light, summery feel like a shandy. It's cool and refreshing and goes down really, really easy. As my traveling companion during this alcoholic trip through time and space commented, "that beer could really get me in trouble… I could see drinking a lot of those really easily." (Feel free to use that quote in your advertising, Bent River.)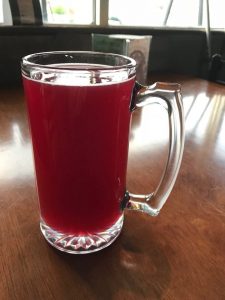 The Blueberry Sour, oddly enough, isn't what you'd expect in terms of the blueberry side of things. I was figuring it to be a little fruity and sweet, but it's not, really. It's got a nice, subtle hint of blueberry, aside from its color, and a delicate sour note to it that's also not overpowering. It's really a great mix of the two, not too sour and not too sweet, but with just the right touch of both. Let's put it this way: Even if you're not a gigantic fan of blueberries, if you get stuck with one from someone buying a round, you're still going to dig it. It's light and delicious and, like the Mango, it's a terrific summer beer to down easily while you're sitting on the patio listening to music.
So, if I'm going to call the Mango at Radicle the Beer of the Late Spring, since it'll probably be gone by the time June 21 comes around, let's call this baby the Beer of the Early Summer. It's good stuff and a great warm weather brew. Go check it out, along with other interesting concoctions including the Coconut Curry Lager and my ever-favorite Jalapeno Ale, down at Bent River.
Sean Leary is an author, director, artist, musician, producer and entrepreneur who has been writing professionally since debuting at age 11 in the pages of the Comics Buyers Guide. An honors graduate of the University of Southern California masters program, he has written over 50 books including the best-sellers The Arimathean, Every Number is Lucky to Someone and We Are All Characters.