Osaka Offering A Fresh Sushi Option For Muscatine
Looking for a catch of the week that doesn't involve noodling the flooded Mississippi River?
If you're  jonesing for Japanese you won't have to fish far for satisfying sushi and sashimi any longer. Osaka restaurants in Moline, Davenport and Muscatine offer fresh dishes from the land of the rising sun roll, and they're a Godzilla-sized hit.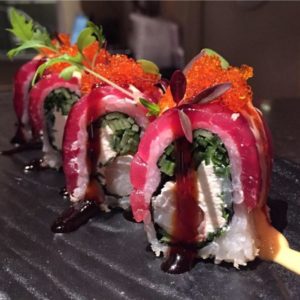 While other local outlets have offered sushi as part of their broader menus, Osaka is unique in its sole dedication to Japanese cuisine, as well as its environment and presentation.
Walk inside and you're immersed in an expansive, warm crimson replete with authentic Japanese décor, ebony and gold accents and a distinct Asian flavor. The smiling waitstaff is polite and accommodating, friendly and attentive, and the menu is bursting with delicious options. Everything from hibachi to a vast array of sashimi to over two dozen sushi rolls is available. There are plentiful vegetarian and vegan options, as well as entrees without fish for reluctant pescetarians. Traditional sushi staples such as California rolls, spicy tuna and eel are tasty treats and there are unique creations such as the Muscatine Roll (with crabmeat, cream cheese, jalapeno and seasoned red tuna and salmon), the Mango Summer Roll (a mango-wrapped dessert roll with shrimp tempura and avocado), the beautiful and delectable Pink Lady Roll (a heart-shaped sushi with shrimp, spicy tuna, avocado and crab wrapped in pink soy paper) and more.
"We want to offer many things for people to try and enjoy," said Faye Yuen, co-owner of the Muscatine Osaka, with her husband, Jerry Lu. "We want it to be something for everybody to try."
This is the third Osaka restaurant for Yuen and Lu, following previous Osaka spots in Galesburg and Matton, and it was a calculated move for the duo. Yuen said they noticed a gap in the market for a restaurant of their type.
"There were no restaurants here with Japanese food like this," she said. "There were no restaurants that just served sushi and sashimi and hibachi, so we thought it would be good to have one if people wanted it."
After putting out feelers and gauging the interest in the area, they decided to make the big leap.
"We took about three months to find the right place, then it was another three months of putting it all together," she said.
After putting in months of work to renovate the space, the duo was up past 3 a.m. the night before the opening to make sure everything was as close to perfection as it could be.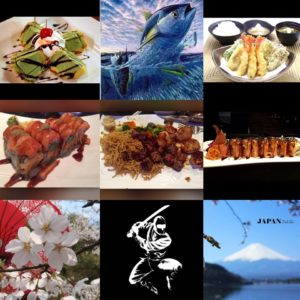 "It was a lot of hard work, but we wanted it to be its best," she said. "It was worth it."
However, word of the restaurant is quickly spreading on social media and the response has been overwhelmingly positive.
"We've had a great response on facebook from the first time we put something up," Yuen said. "More and more people were commenting and messaging me asking me about when we were going to open and making reservations. It's been very busy! That's good!"
As momentum grows, so will the restaurant, Yuen said. They're already looking to expand and include a live hibachi grill complete with a chef to perform the signature live-in-the-round grilling before patrons.
"We're looking forward to that, we think people will really like it," Yuen said.
Yuen and Lu are relishing the afterglow of the opening and looking forward to seeing the progress as Osaka continues to rise.
"When I see people coming in and smiling and happy and liking the food, I feel good," Yuen said. "We're happy to bring this to Muscatine and we look forward to being here a long time."
New to sushi?
According to the Worldwide Sushi Reference Glossary, here are some common terms:
Bara sushi. Sushi rice and ingredients mixed together, as a rice salad.
Chirashi sushi (Iso-don, gomoku sushi). Sushi rice bed under other ingredients.
Funamori (Gunkan maki, kakomi sushi). Nigiri sushi wrapped to hold in less solid ingredients.
Futomaki. Large roll.
Fukusa sushi. A type of sushi which is wrapped in a crepe.
Inari sushi. Aburage stuffed with sushi rice.
Make sushi. Nori seaweed and a layer of rice around a core of fillings.
Norimake. A roll with nori seaweed on the outside.
California roll. Crab meat, smelt or flying fish roe, avocado.
Philidelphia roll. Salmon, cream cheese and some sort of vegetable.
Nigiri sushi. A slice of fish or other topping atop vinegared rice.
Okonomi-zushi. Home-style nigiri sushi.
Onigiri. Balls made with plain steamed rice with various stuffings.
Oshizushi. Sushi rice and other ingredients pressed into a box or mold. .
Sashimi. Sliced or prepared raw fish.
Sushi. Anything made with vinegared rice.
Tazuna sushi (Rainbow roll). A roll with diagonal strips of food across the top.
Temaki. Hand rolls, usually cone-shaped.
THE DO'S AND DON'TS OF SUSHI
To fully enjoy your sushi dishes, there are some important do's and don'ts you should follow, whether you are eating traditional edo-style sushi or the fusion style sushi prepared in the West.
DO's
Do ask questions and be friendly
Sushi chefs love it when you ask questions about their knives, headbands, experience, background and cooking style. Relate with them courteously without asking about things like freshness of food ingredients, which is usually regarded as an insult.
Do wipe off and clean your hands with the towel
Servers or chefs place hot moist towels on the table for you to clean your hands. Sushi is meant to be eaten with hands and chopsticks. So take a few moments to clean and refresh your hands before you start eating.
Do trust the chef
Well trained traditional sushi chefs can craft a menu for you in real time. So order for something on the omakase course and the chef will create a menu that you will enjoy. But always state what should not be added to your dish, especially if you dislike certain flavours or fish.
Do eat your sushi immediately
The best time to eat your sushi is immediately after the chef gives it to you. The fat in the fish and the rice taste great when they are warm. Don't let it sit there for several minutes, you won't be able to taste all the flavours and appreciate the aroma that the chef has created.
Do try other types of sushi
Endeavour to move out of your comfort zone. If you always eat salmon or tuna, try albacore, yellowtail, eel, uni, ankimo or monkfish liver. You may also like to taste the delicious jellyfish. If you are not sure, research the experiences of those who have eaten it at a top sushi restaurant.
DON'TS
Don't fill the cup with plenty of soy sauce
You don't need to add so much sauce to your sushi, a little touch will do. Trust the chef, he would have put in so much effort to ensure that it gives you the taste, texture and flavour that you will enjoy. If think you need a little more, dip the side of the fish, don't put the rice into the sauce.
Don't place ginger on the sushi
Use the ginger to cleanse your palate in between bites of sushi. The ginger is meant to help you enjoy the unique flavour and aroma in each piece or roll of sushi. Similarly, you don't have to use a lot of wasabi because it overpowers the seasoning and taste of the fish.
Don't order a heavy meal first
When you get to a sushi bar, eat a light starter like nigiri or sashimi. Then take some heavier food at the end. You should strive to taste as many flavours as possible so avoid ordering for a large number of rolls or a steak, which will fill you up fast.
Sean Leary is an author, director, artist, musician, producer and entrepreneur who has been writing professionally since debuting at age 11 in the pages of the Comics Buyers Guide. An honors graduate of the University of Southern California masters program, he has written over 50 books including the best-sellers The Arimathean, Every Number is Lucky to Someone and We Are All Characters.