Moody A Multi-Faceted And Fascinating Muscatine Resident
"I officiated two weddings right there," Matt Moody says, pointing to the expansive veranda outside Elly's in downtown Muscatine, overlooking the riverfront of the city he's known since birth. "Both couples are still married, too, so, I guess it's good luck."
It's one of many significant and resonant events Moody has shepherded through his 50 years as a fourth-generation Muscatine resident. It also demonstrates one of many facets of his life, which has encompassed everything from live performance to political activism to local business to the aforementioned role as an officiant for the Church of Universal Light.
"It's solely an online ministry," the genial, laid-back Moody laughs, between sips of coffee. "A friend of mine had gotten ordained and I thought it would be fun to do, and it's turned out to be one of my favorite things. It's really kind of a performance in itself, but unlike any other performance in that everyone there wants you to succeed, and it's pretty much foolproof. No matter what happens, people are happy to be there and to have a good time, and that's heartening."
The spotlight can be less forgiving in Moody's other performance endeavors, but it's no less enriching. Moody has had an eclectic resume of roles, including emcee for Bottoms Up Burlesque, the haunted host Nick for Skellington Manor's fright house, and various parts with area thespians including Pearl City and Prenzie players. His next endeavor with the former is as director of "Wedding Belles," while his last with the latter produced one of his favorite roles to date – that of the King of France in "All's Well That Ends Well."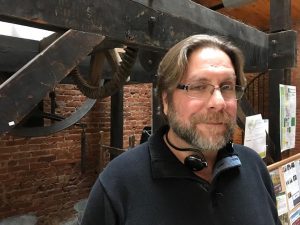 "I really loved playing that part, he's a very complicated character, he's very sick but gregarious overall, but with a terrible temper, so there's a great range to it, and I really tore into it," he said.
Moody's road to the stage began as an imaginative child, he said.
"I was really kind of a weird kid," Moody said. "I was very much inside my own head a lot. My older brother was more of a jock, and I went in the opposite direction. I was the kid plugging in my Commodore 64 to the TV and reading a lot of Vonnegut, Joseph Heller, Lawrence Block, reading voraciously, and getting into theater in high school."
The attention and influence of one particular teacher during his senior year at Muscatine High School, Mike Cervantes, set him solid on the creative path, and meeting up with local friend JC Luxton in Iowa City during his time with IC Improv Group locked him into the area circuit.
"I love to explore different ways to looking at things, looking at life, through roles," he said. "It's such an involved process. You learn the script first, then you start creating the personality and layers to the character, so you inhabit the part and really know and feel what this character is going to do next."
Moody's life is girded by more practical practice as well, as he works during the day writing software and had previously helped in his family's business. His grandfather opened Moody Heating Nov. 17, 1956, and Matt helped in the store growing up, but it was his older brother, Dan, who took over the reins from their father.
"It was something he was more interested in," Moody said. "I worked there for a while, and I enjoyed it, but it wasn't my passion. Dan is much better at it."
His family has a storied history outside the business, as his grandfather on his mother's side, Dennis O'Leary, worked for the infamous entrepreneur Norman Baker and was a sportswriter for the Muscatine Journal.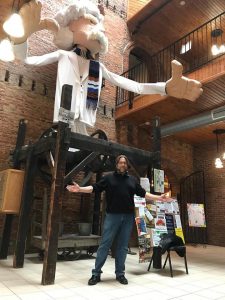 "He was an interesting character," Moody said. "There are a lot of interesting characters in my family tree."
Moody has bountiful family ties to the community as well. He's the father of Lizz, 26, Cameron, 25, Lauren, 24, Bradley, 16, Chase, 15, Kaden, 14, Nathaniel, 11. He met his wife of eight years, Mandy, through a successful matchmaking attempt by his cousin a decade ago.
"It was at a birthday party, and we just kind of hit it off right from the start," he said. "We actually had our wedding pictures taken here, in this building, in the hallway downstairs from Elly's. So I've got wedding ties to this place in a couple of different ways."
Those bonds to the community in myriad ways look to continue for Moody. He'll be directing for Pearl City, and continues his work in political activism with Progress Muscatine and the Muscatine Society of Freethinkers, and he'll keep making regular appearances on the local podcast Back Porch Production, with Terry Neeld.
Beyond that, however, he hesitates to name many set plans for his path.
"I tend to just follow a philosophy of trying to do the right thing, the good thing, and follow a creative path," he said. "As long as I'm not hurting anyone else, and as long as it's a positive thing in my life, that's what I'll follow. That's worked for me pretty well so far."
Sean Leary is an author, director, artist, musician, producer and entrepreneur who has been writing professionally since debuting at age 11 in the pages of the Comics Buyers Guide. An honors graduate of the University of Southern California masters program, he has written over 50 books including the best-sellers The Arimathean, Every Number is Lucky to Someone and We Are All Characters.