Max Collins Still Having Bloody Good Fun As A Writer
Max Collins has killed hundreds of people over the past four decades.
And, not only has he not been sent to prison, but they've given him awards, fame and fortune for it.
The Muscatine author, who saw his novel "Road To Perdition" turned into an Oscar-nominated film and who was given the 2017 Grand Master Award for lifetime achievement as a fictional murderer, a maestro of mystery novels, is continuing to charm readers with his bloody fun exploits.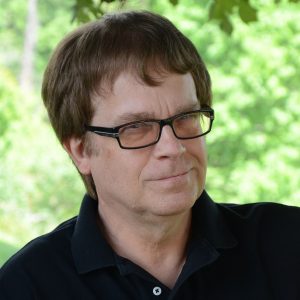 MWA's Grand Master Award represented the pinnacle of achievement in mystery writing and was established to acknowledge important contributions to this genre, as well as for a body of work that is both significant and of consistent high quality. Collins certainly fits both categories.
"The Mystery Writers of America is the primary professional group of mystery and suspense writers, and getting its lifetime achievement award, the Grand Master "Edgar," is about as good as it gets," Collins said. "The list of Grand Masters includes many of my personal favorites, Mickey Spillane, Rex Stout, Agatha Christie, Alfred Hitchcock, and Erle Stanley Gardner, among many others. It's a thrill to be in their presence.  The award comes at a time when I've battled my way back from some nasty health issues, so it feels like really, really, good medicine.  And, yes, it's something I've dreamed of receiving, though didn't know if I ever would."
But how does it feel to be at that point in his career when he's received a lifetime achievement award?
"It's a mixed bag," Collins said. "I've received several others, notably the Eye from the Private Eye Writers of America, and it's nice to see your body of work recognized, but sobering knowing that nobody gets this kind of honor until their third act."
His first two acts have been pretty impressive, and his debut was at a young age.
"I decided to be a writer in junior high and began submitting novels soon after," Collins said. "I went to the University of Iowa Writers Workshop and sold two novels while I was there, 'Bait Money' and 'Blood Money.'  I never looked back.  I taught briefly, part-time, at Muscatine Community College, but I've never had a fulltime job except freelance writing.  That was made possible in part because I landed the Dick Tracy strip, which gave me a nice income for fifteen years, by which time my novel-writing career was established.  I stayed afloat by not being afraid to try different kinds of storytelling.  I've done comic books, comic strips, novels, short stories, non-fiction books, trading cards, movie scripts, TV scripts, jigsaw puzzles and video games.  I took on a lot of movie and TV novels, and put my name on them when others said I should hide behind a pseudonym.  I felt using my own byline kept me honest, and it built an audience because many of my media projects were high-profile, movies like 'Saving Private Ryan' and 'American Gangster,' and TV properties like 'CSI' and 'Criminal Minds' — Matt (Clemens) worked on the latter two with me.  I am proud to be a professional writer."
Looking back on his career, of what is he most proud?
"Probably just having a career — being able to make a living at fiction writing without a day job, which I've been doing since 1977," he said. "Career highs include landing the writing of the Dick Tracy strip back in '77; winning the PWA Shamus Best Novel, True Detective, in 1984; directing and writing five independent features, with 'Mommy' airing on Lifetime; and having my graphic novel, 'Road to Perdition' made into an Academy Award-winning film with Tom Hanks.  I'm also proud of what my wife (Barbara Collins) and I have achieved with our humorous 'Antiques' mystery series."
What kind of advice would he give to aspiring mystery writers?
"It's a steady learning process," he said. "There are writing schools, and I attended the best at the Writers Workshop in Iowa City.  And there are seminars, and I've taught my share.  But writing is chiefly self-taught.  It comes from reading analytically, learning to edit your own work, and staying at it.  I don't think I've ever made any quantum leaps in my writing, but I've gotten incrementally better all along the way.  I'm much better now than I was when I first published…but I wasn't bad then."
What has he most enjoyed about the process?
"Oddly, collaboration has been one of my biggest joys," Collins said. "I say `oddly' because writing is largely solitary.  But I loved making films, most of them with my terrific collaborator Phil Dingeldein, and the whole collaborative experience, from movie set through editing, was the best.  I also enjoy collaborating with my wife Barb on the 'Antiques' novels — that's special, being able to co-author works with your spouse and stay happily married.  Matt Clemens and I also have collaborated on a score of books, and I'm collaborating posthumously with Mickey Spillane, completing his unfinished manuscripts.  Making new Mike Hammer novels happen is a delight to the thirteen year-old me, who travels with me everywhere."
Collins is hardly resting on his laurels, lifetime achievement-wise or otherwise. He's got a number of deadly projects on his bullseye for the coming years. And even though he's spent the last year in and out of hospitals for medical issues, he's raring to get back at it with a clean bill of health.
"I lost time with those hospital stays, and recovery time, so work has piled up," Collins said. "I have entries coming up in a number of my series – 'Antiques,' Mike Hammer, Quarry and Caleb York (the latter a western).  Matt and I have a big political thriller coming out in April, 'Executive Order.'  I will be doing a new Nate Heller, and last year's Heller, 'Better Dead,' will be out in paperback in March.  The biggest project this year is a non-fiction book about Eliot Ness and Al Capone — a dual bio.
"(Also) Quad City area folks may be interested to know that my full-length prose novel of `Road To Perdition' has been published by Brash Books.  I was forced to cut that book almost in half by DreamWorks when the movie was released — they wanted nothing in the novel that wasn't in the movie, even though I had created these characters and this storyline in the original graphic novel.  It's gratifying that it's finally available.  You can request it at the local book stores or find it online."
For more information on Max, see http://www.maxallancollins.com/blog/.
Sean Leary is an author, director, artist, musician, producer and entrepreneur who has been writing professionally since debuting at age 11 in the pages of the Comics Buyers Guide. An honors graduate of the University of Southern California masters program, he has written over 50 books including the best-sellers The Arimathean, Every Number is Lucky to Someone and We Are All Characters.