Jon Fasanelli-Cawelti: Atlas at Muscatine Art Center
The Muscatine Art Center will feature one of Muscatine's own in the exhibition, "Jon Fasanelli-Cawelti: Atlas," opening on January 17th with a reception in the afternoon on January 19th. Fasanelli-Cawelti is an accomplished printmaker. His artwork features the people, places and objects, especially musical instruments, which are woven into his daily routines. His technique of intaglio printing dates back to the 1400s but Fasanelli-Cawelti has found innovative ways to present a traditional technique.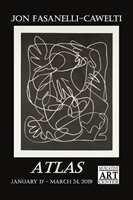 In 2013, the Muscatine Art Center featured a retrospective of Fasanelli-Cawelti's first several decades of work. "Atlas" is a series of prints and large-scale drawings created over the last five years. The exhibition features all new work such as "The Caregiver's Map" and is dedicated to the artist's wife and caregiver, Diane Calzaretta.
The retrospective in 2013 strengthened the connection between Fasanelli-Cawelti and the staff at the Muscatine Art Center.  Melanie Alexander, Director of the Muscatine Art Center, explains, "Every conversation with Jon is full of wonderful twists and turns. The staff appreciates his breadth of knowledge related to art, art history, and many other subject matters. Over the years, Jon has truly studied our collection, and his enthusiasm for art and the collection in this community is contagious."
When the Muscatine Art Center celebrated its 50th anniversary in 2015, Fasanelli-Cawelti created a mixed media portrait of Laura Musser-McColm entitled, "Lady of the House." The portrait features references to the Mississippi River, to architectural details of the historic house, to the styles of the art world's greatest masters, and to Musser-McColm family stories.
In the new exhibition, "Atlas," many of Fasanelli-Cawelti's images read as topographical maps. The titles of several drawings and prints refer to maps or hiking or other means of experiencing the landscape. Hands and feet are themes repeated in many works. The viewer is invited to consider the memories of moving through a landscape and physically navigating the terrain. "Atlas" is a journey undertaken by the artist along with his caregiver, family, and inner circle.
Fasanelli-Cawelti is one artist who can say that he studied with the best. Originally a student of history, he studied briefly at the Art Institute of Chicago before studying with Mauricio Lasansky, Virginia Myers, and Keith Achepohl at the University of Iowa. Fasanelli-Cawelti received his BFA in 1980, his MA in 1983, and his MFA in 1985 from the University of Iowa. From 1985 to 1998, he was personal assistant and printer for Mauricio Lasansky, who was referred to by Time Magazine as "the nation's most influential printmaker."
Fasanelli-Cawelti's relationship with art goes back to his childhood. He grew up in Chicago and spent many afternoons sketching in museums with spectacular collections. His love of creating is captured in the exhibition, "Atlas." "Even in the works that appear more primitive, Jon's training is evident," explains Alexander. "The viewer can find a big bold line in one of his drawings and then walk across the room and discover the line's twin in a print."
As a long-time resident of Muscatine and former instructor at Muscatine Community College, Fasanelli-Cawelti is known to many local residents. His exhibition reception is a celebration in the afternoon of January 19th. The Mad Creek Mudcats will perform starting at 1:30 p.m. Admission is free of charge, and no reservations are required. In case of poor winter weather conditions, visitors are encouraged to check the Muscatine Art Center's Facebook page.
For more information, visit http://muscatineartcenter.org/Exhibitions/Jon-Fasanelli-Cawelti-ATLAS.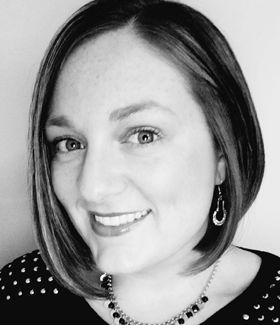 Tess Abney is a freelance writer who was born and raised in the Quad Cities. She spends most of her time attempting to successfully raise three boys. In her free time, writing is her passion. Whether it is sharing local events and businesses with readers or sharing her thoughts on life, she finds comfort in the way words can bring people together.