How To Avoid Plumbing Issues For A Happy Thanksgiving
The delicious bounty of food enjoyed on Thanksgiving can lead to a far-less-enjoyable bounty of issues with sewer and plumbing systems in the days after the holiday. Everything from sinks to toilets to garbage disposals can become clogged, leaving people far from grateful.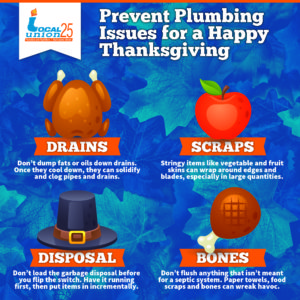 Fortunately, the contractors who employ the skilled professionals of the Plumbers and Pipefitters Local Union 25 in Rock Island can provide the service and expertise needed to fix any problems as they arise.
While many people spend the day shopping for the best holiday deals, plumbing professionals deal with the rush of the busiest day of the year for plumbing repair, according to Local Union 25 officials. Service calls for residential plumbers overflow at almost double that of an average Friday, and are nearly a quarter higher than any other Friday-through-Sunday stretch in November.
"The holidays experience a huge increase in use on the systems," said Chuck McKnight, Local Union 25 training coordinator. "There's an increased number of people in the home straining the systems, and an increased amount of food and items going down the disposals."
Many of the issues aren't just because of the increased use, but the type of use. According to McKnight, people use their sinks, disposals and toilets for things that aren't meant for those systems. The variety of problematic substances being disposed of can lead to breakdowns — or, rather, a lack thereof.
"Vegetable and fruit peels, potato peels, peeled egg shells, bones — all of those things can cause a lot of disposals and sinks to become clogged," McKnight said. "The peels can collect around the edges and clog them up. If you pour fats and oils down the drain, they can solidify and clog pipes. Garbage disposals are convenient, but they're not meant for certain types of waste. If you do get rid of food scraps, always have the disposal running while you do it to make it easier to break the food up."
McKnight noted that flushing those items down toilets can also cause issues, and flushing paper towels or wet wipes or anything of that nature can also cause obstructions.
"Basically, it's just using common sense. If it's not meant to be flushed or put down the drain, don't do it," McKnight said. "If you have any doubts about it, throw it in the trash. It's better to be safe than sorry."
If you do find yourself feeling like a turkey and stuck with a clog, professional service technicians at one of the many Local Union 25 signatory contractors in the Quad Cities are prepared to fix it — easy as pie.
"Our plumbers are given the best training in plumbing service and customer service, and will do an excellent job handling any problem they face," McKnight said. "A Local Union 25 plumber is the best trained person for the job and will make sure they get the job done right the first time, so you don't continue to have problems. Let's face it: Nobody likes calling a plumber, and people really don't like making more than one call to fix a problem. Our workers get it done right — the first time."
Flush away any potential plumbing problems and take a load off your mind this holiday season! Follow these tips, according to McKnight:
·        Don't dump fats or cooking oils down drains, even if you run them down with hot water. Once they cool down, they can solidify and clog pipes and drains.
·        Stringy, fibrous items like vegetable and fruit skins and peels can cause issues by snaking around edges and blades, especially if they're dumped in large quantities all at once.
·        Don't load up the garbage disposal before you flip the switch. Have the disposal running first, and put the items in incrementally.
·        Don't flush anything down the toilet that isn't meant for a septic system. Paper towels (especially those with fibrous webs), wet wipes, food scraps, bones, grease and oil can all wreak havoc with plumbing systems, especially on days that already experience heavier-than-normal use.
If you do encounter issues, call a Local Union 25 plumbing contractor for quick, quality service that will keep your holiday moving in the right direction. For a full list of contractors, visit https://lu25.org/contractors.html.
About Plumbers and Pipefitters Local Union 25
Since the early 1900s, Plumbers and Pipefitters Local 25 has guaranteed the professionalism of its journeymen, and the value of their work through a training program that is thoroughly unique in the plumbing and pipefitting industries.  Their five years of rigorous classroom and on-the-job training in a state-of-the-art training center produces a workforce so skilled in the mechanical service and construction business that they provide roughly 85% of all plumbing, HVACR and pipefitting performed in the Quad City area.
Sean Leary is an author, director, artist, musician, producer and entrepreneur who has been writing professionally since debuting at age 11 in the pages of the Comics Buyers Guide. An honors graduate of the University of Southern California masters program, he has written over 50 books including the best-sellers The Arimathean, Every Number is Lucky to Someone and We Are All Characters.