Heart Society Cruising Into New Success
Muscatine's Heart Society are cruising into new territory in their music careers – literally – with a shot at performing with such music business legends as John Prine, Patty Griffin, Lee Ann Womack and others.
The local duo of Muscatine-born-and-raised Benjamin Eichelberger and former Mississippi resident Teneia Sanders-Eichelberger have been invited to perform on the 11th edition of Sixthman's Cayamo cruise, an annual music festival held at sea on Norwegian Cruise Line's Norwegian Pearl.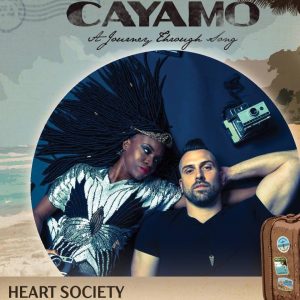 Heart Society beat out several hundred artists through two rounds of voting in the Sixthman Soundcheck competition, during which they were voted for by the public as well as the patrons attending the cruise. They will be joined on the performing slate by fellow contest winners Flagship Romance and Caleb Caudle, as well as music legends John Prine, Patty Griffin, Lee Ann Womack, Shawn Mullins, and Brandi Carlile, among many others.
"We're absolutely thrilled, it's an awesome feeling!" Teneia said. "We're really excited. We can't wait!"
"It's such an honor," Benjamin said. "It's definitely one of the biggest highlights of our career, getting to perform with Grammy winners and so many legends. Plus, it was really an honor to be voted for by all the people who are actually going to be guests on the cruise. It was cool that they voted for us to perform for them."
The duo met in 2011 in Phoenix, Ariz., and began collaborating as musicians, before segueing into a romantic coupling. Since then they've toured the country and built up a loyal following, particularly in the south and southwest. While making Mississippi their base now, they still have warm feelings for Muscatine and periodically visit to play within Benjamin's home city.
By playing in front of over 2,200 new fans and getting to mingle with music legends and their agents and business acquaintances, they're hoping the cruise is a power shot to the arm for their careers.
"It's a lifelong dream for most musicians to share a stage with these songwriting giants, and now we have that opportunity," Benjamin said. "We hope this exposure boosts our career, and generates a lot more interest in our upcoming album."
The new album, "Wake the Queens," is a rocking-but-soulful statement of female empowerment that is being financed through a crowdfunding campaign, they said. In addition, 10 percent of the proceeds from sales will be donated to Equality Now, an organization fighting for gender equality worldwide.
"This couldn't have come at a better time in our career," Teneia said. "We want to carry momentum from the Cayamo announcement into the release of `Wake the Queens.' We believe now is the time for women to stand in their power, and we want this to be the biggest album we've ever made."
Cayamo sails out of New Orleans to Cozumel, Mexico and Harvest Caye, Belize. The ship is currently sold-out, but a waiting list is available.
Visit https://www.cayamo.com  for more details.
Heart Society's crowdfunding campaign is currently underway. Contributions can be made through Oct. 30 at https://www.heartsocietymusic.com and https://igg.me/at/heartsociety.
"We're hoping this is going to be our biggest year ever," Benjamin said. "We're really excited and we feel really fortunate to be a part of this."
Sean Leary is an author, director, artist, musician, producer and entrepreneur who has been writing professionally since debuting at age 11 in the pages of the Comics Buyers Guide. An honors graduate of the University of Southern California masters program, he has written over 50 books including the best-sellers The Arimathean, Every Number is Lucky to Someone and We Are All Characters.