Grammy Award-winning Classical Guitarist Making Stops in Muscatine
Jason Vieaux, a highly praised classical guitarist with accomplishments ranging from symphony soloist to a Grammy Award winner, will provide outreach engagements in local schools and community sites from Nov. 26 through Dec. 7, with a solo recital in Davenport on Dec. 8.
Vieaux is the guitarist that goes beyond the classical and is "among the elite of today's classical guitarists," according to Gramophone Magazine. Vieaux's most recent solo album, "Play," won the 2015 Grammy Award for Best Classical Instrumental Solo.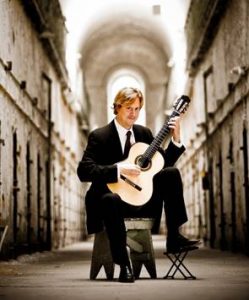 In 2012, the Jason Vieaux School of Classical Guitar was launched with ArtistWorks Inc., an interface that provides one-on-one online study with Vieaux for guitar students around the world. In 2011, he co-founded the guitar department at the Curtis Institute of Music, and in 2015 was invited to inaugurate the guitar program at the Eastern Music Festival. Vieaux has taught at the Cleveland Institute of Music since 1997, heading the guitar department since 2001.
A first-rate chamber musician and programmer, he frequently collaborates with artists such as the Escher Quartet, harpist Yolanda Kondonassis, and accordion/bandoneon virtuoso Julien Labro. He has performed as soloist with over 100 orchestras and his passion for new music has fostered premieres by Avner Dorman, Dan Visconti, Vivian Fung, José Luis Merlin, and more. Vieaux was the first classical musician to be featured on NPR's "Tiny Desk" series.
During his visit, Vieaux will present lectures and demonstrations for 15 schools and eight community groups. He will also give informal performances for the public as part of the Jackson Concert Series at Wesley United Methodist Church, Muscatine, at the Muscatine Art Center, and at public libraries in Eldridge, Rock Island, Davenport, and DeWitt, Iowa. For more information on informal public performances, visit www.quadcityarts.com/vas.
Vieaux will give a full-length public recital at 3 p.m. on Saturday, Dec. 8 at the Davenport Central High School Performing Arts Center, 1000 N. Harrison St., Davenport. Tickets are $10 for adults and $5 students and children. To purchase tickets, visit www.quadcityarts.com/events.
The 2018-2019 Visiting Artist Series brings ten artists and ensembles, including a classical guitarist, a STEM-based juggler, and string quartets, to visit the Quad Cities region from September 2018 through March 2019.  For more information on these artists and details of their performances, visit www.quadcityarts.com/vas.
Sean Leary is an author, director, artist, musician, producer and entrepreneur who has been writing professionally since debuting at age 11 in the pages of the Comics Buyers Guide. An honors graduate of the University of Southern California masters program, he has written over 50 books including the best-sellers The Arimathean, Every Number is Lucky to Someone and We Are All Characters.