Follow The Music For A Good Time
Come celebrate the legacy of Dick and Mary Jo Stanley at Weed Park this weekend!
Follow the Music: Preservation Hall Jazz Band will be happening at Week Park (1211 Park Avenue Muscatine) this Sunday May 20 from 4 – 6 p.m.
Dick and Mary Jo Stanley, two of Muscatine's most prominent and generous citizens, will be celebrated for their 'service above self' contributions to the city. Local organizers are hoping to showcase the wide-ranging impact of the Stanley's. The effect of Dick passing in Nov 2017, followed by Mary Jo within a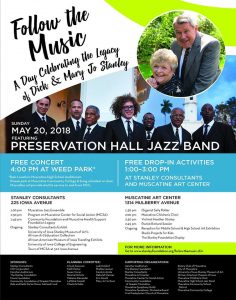 month, left the community to reflect on the lessons the couple taught through example.
Following Dick and Mary Jo's example, a volunteer group is organizing "Follow the Music" as a series of free public events. Muscatine's City Council has proclaimed May 20 as "Dick and Mary Jo Stanley Day."
From 1-3 p.m., a reception for the Muscatine Middle School and High School Art Exhibition will be held in the Stanley Gallery at the Muscatine Art Center. Families can participate in drop-in studio activities, learn more about the Stanley Foundation. You can also hear music from organist Sally Potter at 1:30 p.m., the Muscatine Youth Choir at 2:00 p.m., violinist Heather Straley at 2:30 p.m. and pianist Richard Sessler at 2:45 p.m.
The highlight of the day is the return of Preservation Hall Jazz Band who will perform at 4 p.m. in Weed Park. (In case of rain, the Muscatine High School Auditorium will serve as the concert venue).
Concert attendees should bring a lawn chair or blanket. Parking is available at Muscatine Community College and MuscaBus will provide transportation. Weed Park will be partially closed to traffic.
To view the flyer for this amazing day, go to https://www.muscatinecommunityfoundation.org/wp-content/uploads/2018/05/Follow-the-Music-A-Day-Celebrating-the-Legacy-of-Dick-and-Mary-Jo-Stanley-Flyer.pdf.
Come celebrate the legacy of Dick and Mary Jo this weekend!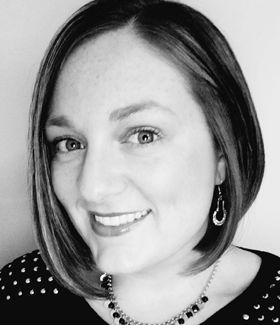 Tess Abney is a freelance writer who was born and raised in the Quad Cities. She spends most of her time attempting to successfully raise three boys. In her free time, writing is her passion. Whether it is sharing local events and businesses with readers or sharing her thoughts on life, she finds comfort in the way words can bring people together.