Flamingos Offers Colorful Ice-Cold Creations
If you're drifting through a haze of heat exhausted and you see a painted shack near the side of the road, don't worry, it isn't a mirage.
It really is nirvana.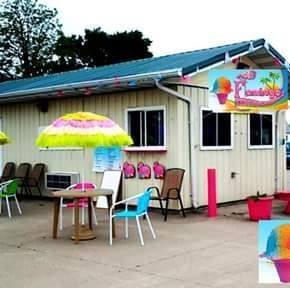 Nirvana in the form of icy cold refreshment.
Nirvana in the form of the Flamingos Tropical Cone stand.
For more than five years, Flamingos has been serving up icy cold treats – from smoothies to drinks to Mexican ices to flavored fruit concoctions and more – at its 801 Oregon St. location, and at 1903 Park Ave., right outside Muscatine Mall.
Gabby Aguilar, 28, who owns both of the shops, is proud and thrilled to see her dreams coming true.
"It feels great, it's really an amazing thing to see something you've worked so hard on become successful," she said. "I've been working on this since I was in college, and to see all of my education and hard work pay off is just such a great feeling."
Aguilar isn't exaggerating. Her business started as a college project at Muscatine Community College in 2013. As her final, she had to come up with a detailed business plan. Little did she know she was writing the path to her future.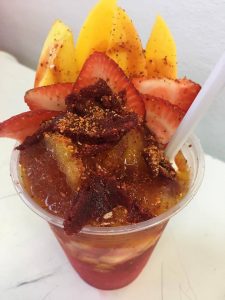 "While I was in college, the opportunity came up to actually make the business plan a reality and get a shop to make it happen, so that's what I did," she said.
But why frozen ices?
"I just had the idea, I thought it would be a great business, and nobody else was doing it," she said. "I actually applied what I learned at MCC into everything I did when I started out. It was great. I learned that as long as you put hard work and give your all to something, you can accomplish anything. It makes me proud of myself, and it makes me thankful for the support of my family and my fiancée that I've been able to do this."
What she's been able to do is pretty impressive. In addition to opening the two businesses, she also has catering and delivery services for her fruit items and Mexican ices. Some of the favorites on her menu are the shaved ices and the Mango Nada, which contains mango syrup, ice, real mango slices, Mexican spices and other ingredients.
And what exactly are the Mexican fruit items and ices?
"They have a blend of fresh fruits and juices and Mexican spices, but they're not hot, they're more sour and have a unique taste that goes well with the fruit," she said.  "They're definitely unique, and refreshing, and I think that's why people like them."
Both businesses are seasonal endeavors, taking advantage of the sweltering heat by being open April 1 through the end of August.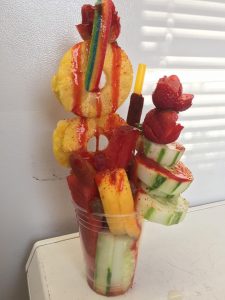 "I love doing this, I love that it makes people happy," Aguilar said. "There really was noplace around her like this, where people could get Mexican snacks, fruit smoothies, shaved ices, and it's nice to see people taking a chance on something new and enjoying it so much."
Her business plan is far from complete, as she's looking at continuing to expand, first to Iowa City, and then elsewhere.
"I'm looking forward to it, this has been such a great thing, and I'm confident with hard work I can keep making my dreams come true," Aguilar said.
Both shops are open noon to 8 p.m. For more information, check out their facebook page at
https://www.facebook.com/Flamingos-Tropical-Cones-Snacks-365560080217283/
Sean Leary is an author, director, artist, musician, producer and entrepreneur who has been writing professionally since debuting at age 11 in the pages of the Comics Buyers Guide. An honors graduate of the University of Southern California masters program, he has written over 50 books including the best-sellers The Arimathean, Every Number is Lucky to Someone and We Are All Characters.