Beck and Woods' 'A Quiet Place' Opens This Weekend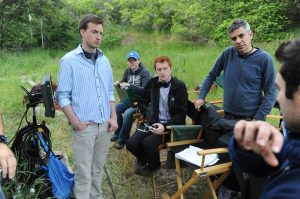 Iowa screenwriters Scott Beck & Bryan Woods' "A Quiet Place" will be released nationwide on April 6 through Paramount Pictures. The thriller stars Emily Blunt ("Mary Poppins Returns") and John Krasinski ("The Office"), who also directs. In addition to penning the film, Beck & Woods serve as executive producers alongside Michael Bay ("Transformers") and his Platinum Dunes banner.
In the modern horror thriller A QUIET PLACE, a family of four must navigate their lives in silence after mysterious creatures that hunt by sound threaten their survival. If they hear you, they hunt you. The film is rated PG-13 with a runtime of 95 minutes.
"A Quiet Place" currently holds a 99% Certified Fresh on Rotten Tomatoes, with critics calling the film "genius" (Angie Han, Mashable), "wholly original" (Meredith Borders, /Film), "an instant classic" (Matthew Byrd, Den of Geek), and "one of the greatest horror films of this generation" (Jonathan Barkan, Dread Central).
Originally from Bettendorf, Iowa, Beck & Woods have been writing, directing, and producing together since they first met in sixth grade. Both attended the University of Iowa, graduating in 2007. Beck & Woods' screenplay for "A Quiet Place" was named one of the ten best scripts of the year by The Tracking Board 2017 Hit List. On the heels of its sale, Paramount signed Beck & Woods to a blind script deal, which they will write and direct for the studio.
The duo is currently in post-production on the thriller HAUNT, which they wrote and directed for producer Eli Roth, Sierra/Affinity, Broken Road Productions, and Nickel City Pictures. The film follows a group of friends who on Halloween night encounter an "extreme" haunted house that promises to feed on their darkest fears. The night turns deadly as they come to the horrifying realization that some nightmares are real.
More information about Beck & Woods can be found at www.blueboxfilms.com.
Sean Leary is an author, director, artist, musician, producer and entrepreneur who has been writing professionally since debuting at age 11 in the pages of the Comics Buyers Guide. An honors graduate of the University of Southern California masters program, he has written over 50 books including the best-sellers The Arimathean, Every Number is Lucky to Someone and We Are All Characters.