Alexander Opens Up New Worlds Of Art In Muscatine
Melanie Alexander's childhood was filled with enchanted treks into the treasures of her grandmother's home – antiques and art, crafts and knick-knacks, all woven into a wonderful tapestry of tales.
That sense of wonder and creative spark continues to inform her world as director of the Muscatine Art Center. The funky, classic architecture of the museum at 1314 Mulberry Ave., Muscatine, opens up to reveal a universe of over 18,000 artworks teeming with imagination, all of which delight Alexander, both hearkening back to her youth and paving the path to more worlds of wonder in her future.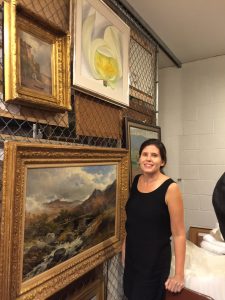 "My grandma could not go to a garage sale or an estate sale without buying something, and her house was crammed with odds and ends," Alexander said. "I spent a lot of time painting ceramics and making crafts with her and just looking through her home and seeing all the wonderful things she had. Part of the reason I loved it so much was just the relationship I had with her. I always loved hearing her talk about the things she bought, I couldn't help but be mesmerized by it. I think that's one of the reasons I love working in museums so much."
Alexander was born and raised in Washburn, a small town near Peoria, and lives in Iowa City with her partner Erik and son Espen, 6. She gained degrees from Truman State University and Seton Hall before making her first trek to Muscatine in 2004 to direct the Muscatine History and Industry Center. She moved on to Cedar Rapids to direct their art center from 2009-2012 but the Pearl City called her back and she took on her current position in 2012.
After starting off in college as a French major, the lure of art history drew her in to a double major in the two disciplines, and to that she added a masters in Museum Studies.
"I was never great at making art, but I enjoyed learning about it," she said. "I love the history and the artifacts and the stories behind them. I love the culture and what you can learn about people from what they make."
Her favorite time period for art is the post-impressionist era, but she maintains an appreciation for all time periods and styles, which serves her well in curating and maintaining the eclectic collection in Muscatine.
"We have some really stunning works, the Mississippi River Collections we have, the paintings from the 1800s are beautiful," Alexander said. "It's really hard for me to try to narrow down to one specific thing or era that I like best."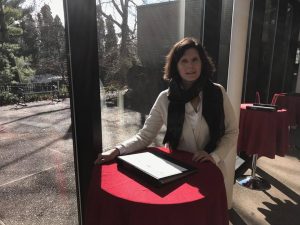 She feels the same about the journey of her job and its myriad responsibilities.
"Every day is different, we're always bringing in new exhibitions and working on new programs, and that's very exciting to me," she said. "We have a small enough staff here where I get the chance to do a little bit of everything. I like working with artists, I like maintaining the works, bringing in exhibitions, working on classes, even the budget side of it and writing grants. I really enjoy it."
Hearkening back to her origins, one of her favorite aspects is hearing the tales behind the pieces unfold.
"I really appreciate when I hear the backstory of something, it makes it more valuable to me," Alexander said. "Maybe it's not going to go for more at auction or going to sell for a higher amount, but that history really makes it more valuable in my eyes."
One of her favorite pieces in the museum is a toy that was given to a little girl when she was sick and sleeping. When the girl woke, it was one of the first things she saw, and it became a cherished item.
"See, something like that, a story like that, makes that extra special to me," Alexander said. "Because that meant something to someone, it meant a lot to them, and that connection makes it fascinating to me."
When she's not in the museum, she enjoys reading and the outdoors, traveling and hiking, and spending time with her family, creating her own stories and artworks.
"Right now I'm spending a lot of time with my son building with Legos," she said with a smile. "He also has a rock collection and we go looking for different rocks that he likes."
In many ways, continuing a legacy beginning when she was a child, creating memories through the collection of items precious and beautiful in the eyes of the beholder.
"I really value that, personally and here in the museum," Alexander said. "Every artwork in here tells a story and I'm happy that we get to present all of them for the people of Muscatine to discover."
Sean Leary is an author, director, artist, musician, producer and entrepreneur who has been writing professionally since debuting at age 11 in the pages of the Comics Buyers Guide. An honors graduate of the University of Southern California masters program, he has written over 50 books including the best-sellers The Arimathean, Every Number is Lucky to Someone and We Are All Characters.